Prof. Dr. Amin Coja-Oghlan

Amin Coja-Oghlan is professor of algorithms and complexity theory.
Prof. (apl.) Dr. Beate Bollig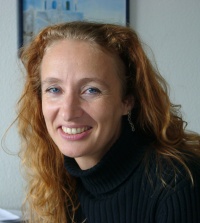 Research interests:
computational complexity and design and analysis of efficient algorithms
Awards:
Teaching award 2019 at TU Dortmund (category II)
Teaching award 2006 at TU Dortmund (joint prize awarded to the chair of Prof. Dr. Ingo Wegener)
Dissertation prize at TU Dortmund (computer science)
Hans-Uhde award for the best diploma in computer science at TU Dortmund
Mentoring
The Mentoring program in computer science was awarded in 2018.
Projects (DFG) (in German)
Entwurf und Analyse impliziter BDD-basierter Graphalgorithmen (DFG BO 2755/1-1 and BO 2755/1-2)
Theoretische Analyse der Robustheit stochastischer Optimierungsprozesse (DFG WE 1066/11)
Additional information

I am a PostDoc with Amin Coja-Oghlan whose project is founded by the german research council (FOR 2975). Formerly, my PhD project "Large Discrete Structures: Statistical Inference, Combinatorics and Limits" was supervised by Amin Coja-Oghlan and Yury Person. In 2018, I achieved my Master of Science in Mathematics at Goethe-University Frankfurt. Before, I achieved my Bachelor's degree at Goethe-University Frankfurt and passed the first State examination in 2016 for the teacher profession at upper secondary school with the training subjects Mathematics and Computer Sciences.

My name is Oliver Gebhard and I am a research assistant of Amin Coja-Oghlan. I studied mathematics at Goethe University Frankfurt and received my master degree in 2019. Before joining TU Dortmund, I was affiliated with Goethe University Frankfurt. My research is funded by DFG CO 646/3.

Lena Krieg is a PhD student of Amin Coja-Oghlan.

My research interest centers around combinatorial random matrices and their applications. I am particularly interested in spectral analysis/algorithm of matrices that arise from random graphs and its applications in disordered systems, CSP, and coloring problem.

Jean Bernoulli Ravelomanana

I am a Ph. D. student under the supervision of Prof. Dr Amin Coja-Oghlan from TU Dortmund. I am also a research assistant at TU-Dortmund and supported by the following grant: DFG CO 646-4 Random graphs: cores, colouring and contagion, 2018-21 joint initiative with Mihyun Kan, TU Graz (funded by FWF I3747). For my research areas, I am interested in constraint satisfaction problems, random graphs and analytic combinatorics.

Christopher Reher is the system administrator of "Lehrstuhl 1" and "Lehrstuhl 2" at the Faculty of Computer Science.
Ulrike Spear is the secretary of Lehrstuhl II.